IT WAS ONE OF those rainy days at Yarakana Gadde Poodu, a cluster of houses near BR Hills in Chamarajnagar district of Karnataka. One could hope to meet Jalle Siddamma only on such rainy days when she did not go into the forest and nobody came in search of her. I made my way to her house through the slushy paths overgrown with grass and plants. I found her sitting in front of the house feeding her grandson a bowl of rice. This is when I first met Siddamma. It was five years ago and Siddamma was seventy at the time.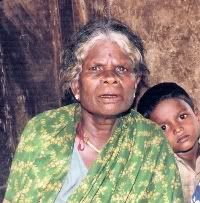 Siddamma, who belonged to the Soliga community, was a renowned midwife and expert in maternity care in those parts. She not only catered to her own village but also traveled to nearby villages to help deliver babies. She handled even complicated cases with an easy calm. Her knowledge of medicinal plants which could heal reproductive health problems was simply astounding. As many people in Yerakana Gadde Poodu say, Siddamma was a mobile library of the forest. She often walked into the forest and climbed the surrounding hills "like a deer" even after she grew old. She is said to have overseen more than 2,000 deliveries.
Siddamma received her extensive knowledge of medicinal plants from her mother who was also a midwife. Dr Sudarshan, who started Vivekananda Girijana Kalyana Kendra (VGKK), a health and education center for tribal communities in and around the area, was impressed with Siddamma's knowledge of maternity care. Soon, she began assisting him with many of the cases which came to the center. Siddamma not only delivered the child but also treated the various ailments of new mothers with herbal medicine.
Her daughter Jade Maadi, who helped her mother with deliveries and accompanied her to the forests, talks about the many herbal medicines for infertility, sexually transmitted diseases and other reproductive illnesses as well as herbal methods of contraception that Siddamma knew about. She was a recipient of the Rajyotsava Award, the Induvalu Honnaiah Memorial Award and the Kavitha Memorial Award.
Jalle Siddamma died on May 29th 2004 after a brief illness.
VGKK has documented some of Siddamma's knowledge of the forests and her unique techniques. Siddamma treated innumerable women during her lifetime and remains an enigma to many gynecologists. With the abysmal level of health care in rural areas where women's reproductive health is woefully inadequate, the role that people like Jalle Siddamma play usually goes unnoticed and unacknowledged. Women like her are usually left out of history books, which become exclusive records of men's achievements.
I still remember Siddamma singing pieces of Goru Goruka, a folk epic of the Soliga god when she was in her lighter moods. As she sang, her son (who is physically challenged and can be found begging at the BR Hills bus stop even today) joined her. Today, her daughter Jade Maadi continues her mother's legacy, silent and uncomplaining.